While flipping through some of my favorite magazines, I noticed that some of my favorite celebrities have adopted a new nail shape for their pretty little claws.
My infatuation with almond shaped nails has been slowly growing ever since I saw them sported on the gorgeous vixens of the hit show
Mad Men
. As a long time devotee to the traditional (shorter) square- shaped French gel set at the local nail salon, I was
really
a little scared of this new, stand out trend.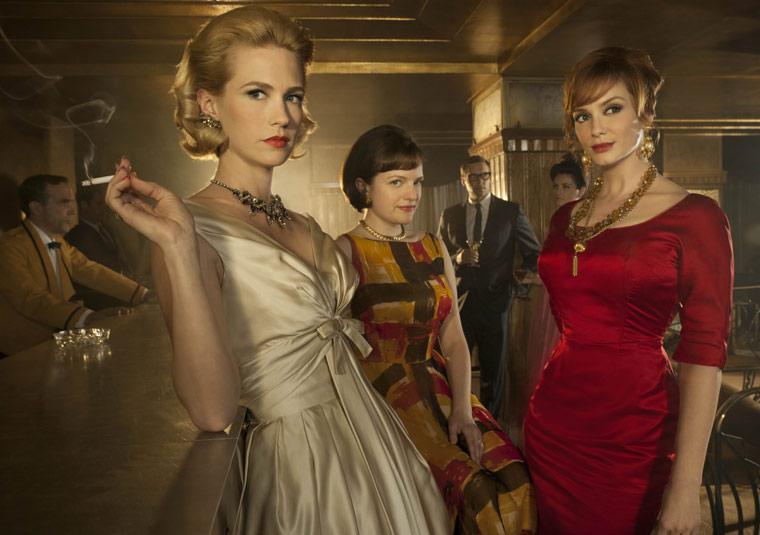 The gorgeous women of Mad Men
Then suddenly, a light at the end of the nail-file tunnel.
Rihanna, my favorite celebrity and fashion/beauty trend icon, decided to don these sexy, elongated nails (and absolutely ROCK it if I do say so myself). I saw how incredibly stunning she looked with these and decided to shed out of my old french manicure cocoon and fly into the stiletto nail trend.
Rihanna with stiletto nails
Well, ok...I lied. I was still a little nervous about stiletto nails so I decided to have them shaped slightly more rounded and natural. I took the picture below of Blake Lively's more almond shaped nails to the salon and asked to have them shaped exactly like hers (but slightly shorter).
Blake Lively with almond nails
Since the nail gods did
not
bless me with the fantabulous strong, long natural nails I crave, I decided to get an acrylic gel nail set applied. I got a pretty mauvy-nude pink,
Puerto Vallarta Violetta
(
similar
) by OPI applied on the top and a fire-engine red applied to the bottom inside tips of the nails for a Louboutin look.
My finished almond nails at the salon
After having them on for a week or so, I have really grown fond of them and plan to keep my talons this shape for quite some time.